Invest in exclusive private equity deals that offer reliable cash flow streams and superior capital appreciations
$
0
Assets Under Management
MISSION AND SERVICES
Alpha-One Capital Group, LLC is a private equity investment firm focusing on creating long-term value for our investors. Our real estate investment funds are carefully designed to preserve and grow our partners' capital, provide financial security for individual and institutional investors. We seek to geographically diversify our property holdings to reach long-range financial goals while minimizing market-specific risk.
With our comprehensive knowledge and experience in the real estate transactions, we structure and negotiate the transactions to achieve our business objectives while maximizing tax efficiency. We are confident to provide suitable investments for our partners with our extensive and high-quality resources in U.S. commercial real estate.
Key Features
Property Name: 
Foxboro Apartment Homes
Property Type: Multi-family
City: Houston, Texas, USA
Estimated Investor Equity Multiple: 1.4x – 1.6x
Key Features
Property name: Ellington Woods and Lealand Place
Property Type: Multi-family
City: Atlanta, Georgia, USA
Number of Units: 180 (Ellington) + 192 (Lealand)
Estimated Investor Equity Multiple: 1.5x – 1.7x
RESEARCH-DRIVEN METHODOLOGY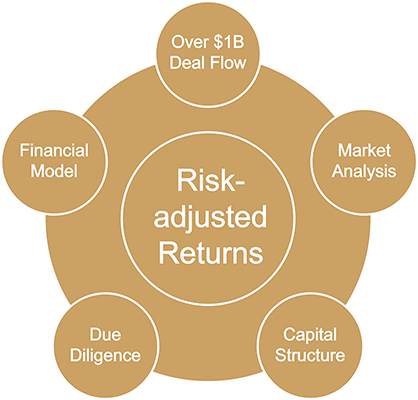 We carefully research commercial real estate opportunities and conduct due diligence on the few selected deals. You benefit from a sophisticated investment in a simple and hassle-free environment.
Why Invest in U.S. Real Estate
Hedge against inflation  |  Superior dividend payout and capital appreciation  |  Strong U.S. Currency Performance
During the 35 years prior 2014, the total returns of Real Estate Investment Trust (REIT) Index exceeded the returns of S&P 500 and three other market benchmarks in 5 of the 9 periods. REITs provided a stable high dividend payout so that investors can diversify risk over time and benefit from capital appreciation.